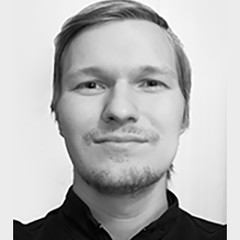 Teemu Husso
Environment Artist & Graphic Design Student
Hyvinkää, Finland
Summary
Young, ambitious digital artist from Finland with game industry in sights. It's a tough path to walk but I'm adamant in pushing myself through.
My skills lie mainly in digital 2D art and design, namely environment art, but through graphic design education I've also attained basic skills in multimedia, such as video compositing, motion graphics, game designing, and illustration. Thus I nowadays have many skills to build on and use in my career.
I have some experience working as an environment concept artist, as well as the in-game texture & asset artist for a small game project, as well as done one small flash game project of my own.
Skills
2D Animation
Concept Art
Concept Design
Digital Painting
Environment Design
Video Editing
Software proficiency
Experience
Environment Concept Artist at Frozenbyte Inc.

Helsinki, Finland

Environment Concept Artist / Intern at Frozenbyte Inc.

Helsinki, Finland

July 2017 - December 2017

Internship lasted until the end of 2017, after which I continued as a full time employee.